Finding meaningful employment can be a challenging task for individuals with disabilities. However, with determination, support, and the right resources, remarkable success stories can unfold. Sally's journey serves as a powerful example of how perseverance and assistance can lead to fulfilling employment opportunities. 
For over 12 years, Sally volunteered at the local nursery, nurturing plants and fostering her love of nature. However, Sally wanted to turn her passion into a paid employment opportunity. To explore this possibility, Sally and her sister Kate approached Mylestones staff at a Disability Expo to seek guidance and support to turn this dream into reality. 
Job Development Officer (JDO), Belinda sat down with Sally to understand her goals and what type of work she enjoys. Belinda approached the nursery manager to inquire if there was a way for Sally to be paid as an employee. Although this request had been made before, the manager declined requests for paid employment. Despite this initial setback, JDO Belinda was determined to help Sally find paid employment. Collaborating closely with Sally and her family, Belinda embarked on a mission to market Sally's skills, address potential barriers, and find the right fit.  
Their efforts led them to Coles Andergrove, where JDO Belinda approached the manager with a proposal to hire Sally. To their delight, the manager welcomed the idea of having Sally as part of their team and valued the support provided by Mylestones. 
Belinda wasted no time in arranging an interview for Sally and began working with her to refine her interview skills and prepare her for paid employment. The day of the interview arrived, and Sally was beaming with excitement. 
"I was a little nervous, but actually got very excited about it too," said Sally about her very first job interview. 
The interview went well and Sally felt at ease throughout the whole process, able to answer all interview questions confidently. Impressed with Sally, the next day the Coles manager offered Sally a role that involved customer service and merchandising. Overjoyed, Sally happily accepted the position.  
Belinda continued to be a pillar of support for Sally throughout the onboarding process. From assisting with employment contracts to liaising with Coles management, Belinda made sure that Sally felt prepared and confident ahead of her first day.  
As Sally was being shown how to clock in during her orientation, a fellow Coles team member warmly said, "Welcome to the Coles family, Sally." This simple gesture ignited a radiant smile on Sally's face, that was felt by everyone who was present.  
Since the day she started her position in customer service and merchandising, Sally has thrived in her role, growing in confidence and becoming an indispensable member of the Coles family.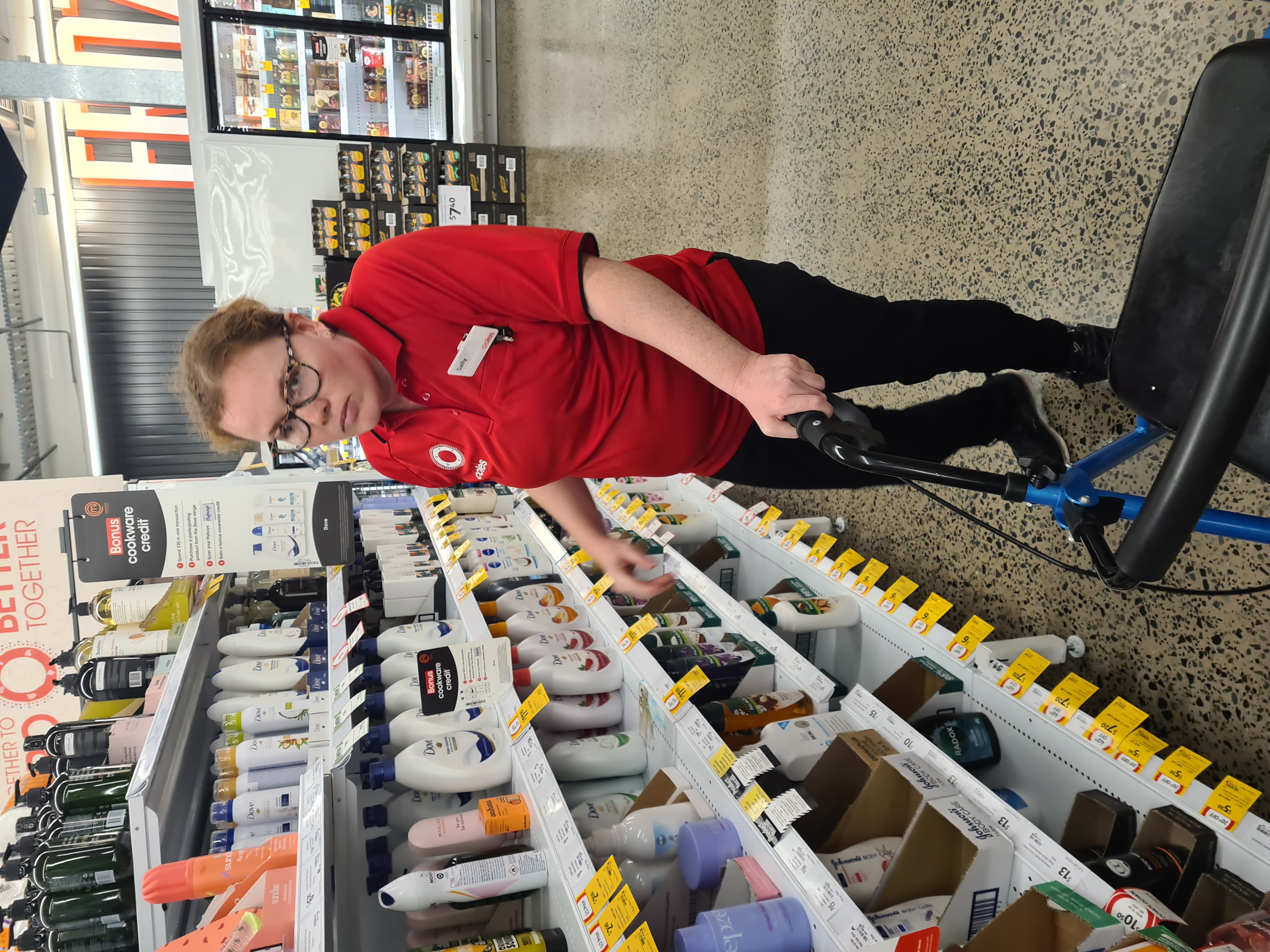 "To watch Sally grow and improve, to see her confidence levels increase is a pleasure. She has gained confidence in her customer service skills and will greet customers and staff that pass her. Sally absolutely loves her job," said Belinda. 
Her infectious enthusiasm and dedication make her a pleasure to work with, and she has embraced her role with confidence. "I enjoy interacting with the customers and helping them find what they need, " agreed Sally.  
Her favourite parts of her role? "I enjoy taking the boxes out the back and using the box cutter to break them down," said Sally. 
"I also love being a paid employee. I enjoy making my own money" Sally said.  
For Belinda, she has the privilege of witnessing Sally's growth and transformation firsthand and is committed to supporting Sally in all her future endeavours, eager to watch on as she continues to make remarkable progress. 
Sally's achievements are a testament to her determination, the support of family and organisations such as Mylestones with dedicated professionals like Belinda, the right opportunities, and a workplace that values inclusion.  
"Don't be afraid to get out there and give it a go" are the words of advice Sally has for anyone looking to find work.  
If you are looking for meaningful employment or are an employer looking to create a more inclusive workplace, we encourage you to reach out to our team at Mylestones. Our dedicated team works to find the best fit for your talents, passion and goals to find a job that works for you.